This real-life story is reminiscent of the Bollywood movie "Sooryavansham" where an illiterate man tutors his wife and helps her fulfill her dream of becoming an IAS officer, one such story unfolds with a twist. comes Jyoti Maurya's husband, Alok Maurya, a Provincial Civil Service (PCS) officer in Bareilly, was instrumental in educating his wife and helping her in her journey to become a Sub-Divisional Magistrate (SDM). However, after attaining this position, Jyoti's involvement in an illicit affair came to the fore, leading to several shocking revelations and allegations, including allegations of corruption.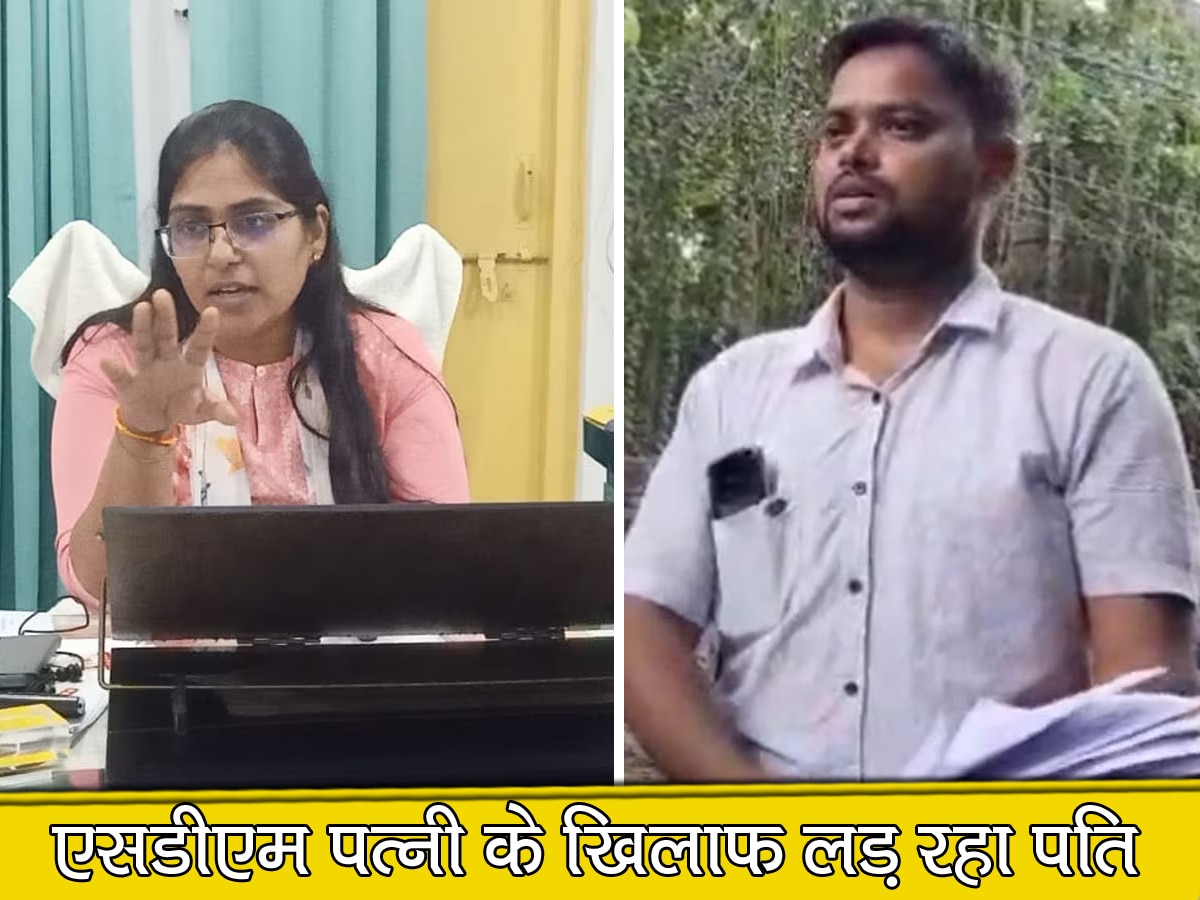 Alok Maurya and Jyoti Maurya-Case Details
Alok Maurya's disclosure

Alok Maurya handed over a diary to the media, in which he has made shocking allegations of corruption against his wife Jyoti Maurya. The diary contains a detailed record of her illegal activities, including recovery of around Rs 6 lakh per month through informal means. The matter is currently under investigation, as allegations of corruption have attracted considerable attention.
Background of Alok and Jyoti Maurya
Alok Maurya, initially a Class IV employee in the Panchayat Raj Department, was selected for the post in 2009. In 2010, he married Jyoti. Alok takes it upon himself to educate Jyoti, who secures the third rank among women in the Public Service Commission examination and eventually ranks 16th overall. Jyoti's selection as a PCS officer coincided with the birth of her twin daughters in 2015.
You Must Read
-
Jyoti Maurya and Alok Maurya Latest News-In a Virul Video Jyoti Abusing Alok Maurya
Beginning of Jyoti's affair
The details of the PCS case reveal that in 2020, Jyoti started chatting with the District Commandant Home Guard posted in Ghaziabad, leading to an illicit relationship. The relationship between the two developed in the course of their duties. However, in 2022, Alok finds an indecent conversation between Jyoti and the Home Guard commandant on Jyoti's Facebook account. Alok lodges a protest with Jyoti, resulting in an argument and Jyoti's threats of death and imprisonment.

Caught red-handed at the hotel
On 22 December 2022, Alok caught Jyoti and the Home Guard Commandant red-handed in a hotel in Lucknow. Fearing for his life, Alok ran away from the spot. Furthermore, Alok claims that he was warned to either accept a voluntary divorce or face dire consequences, including possible murder. Jyoti retaliated by filing a false dowry case against Alok at the Dhumanganj police station, even threatening to file a false allegation of section 376 (rape) against him.
Complaints and allegations
Alok lodged a formal complaint with the Home Guard Headquarters, accusing Jyoti of having an affair with the Home Guard Commandant, Ghaziabad. He also alleged that these two are conspiring to harm him. Alok presented several WhatsApp chats and a call recording in which Jyoti can be heard threatening to kill her.

Jyoti's response and counterclaims
In response to the allegations, Jyoti Maurya (PCS Case Details) claimed that Alok had misrepresented his profession before their marriage, saying that he was a gram panchayat officer, while in fact, he was a sweeper. were employees. Based on this revelation, Jyoti plans to divorce Alok. She also accused Alok of hacking her WhatsApp account and making the chat viral. Jyoti also claimed that Alok is demanding Rs 50 lakh and a house from her.
Ongoing investigation
The matter is currently under investigation at the High Sessions level to ascertain the truth behind the allegations and counter-claims. The officials are examining evidence including WhatsApp chat and call recordings submitted by both Alok and Jyoti.

The purpose of the investigation is to uncover the extent of Jyoti's alleged corruption and to determine whether there is any truth to Alok's claims of her involvement in amassing illegal funds. Additionally, the authorities will assess the validity of Jyoti's allegations against Alok, including her alleged demand for a large sum of money and a house.

As the case unfolded, it became a matter of public discussion because of the prominence of the two men involved. Shocking revelations of betrayal, corruption and threats have captured the attention of the media and the local community.


It remains to be seen how the investigation will proceed and what legal consequences will emerge from the allegations. The truth behind the allegations and counter-claims will ultimately determine the course of action and possible legal repercussions for both Alok and Jyoti.

The story of Alok Maurya and Jyoti Maurya serves as a lesson that even in real life, stories of aspiration and support can take an unexpected turn. The impact of personal choices and actions can have far-reaching consequences, affecting not only individuals but also their families, relationships, and professional reputations.
There is a strong reaction on social media
Ever since the Alok Maurya and Jyoti Maurya episode came to the fore, people are expressing their anger towards Jyoti Maurya on social media platforms like WhatsApp, Twitter, Instagram, and Facebook and are demanding Jyoti Maurya's removal from her post. People are giving it the name of infidelity. Where Alok is expressing sympathy towards Maurya, then anger towards Jyoti. People are reacting to this episode by making different memes.

What is your reaction to this episode, please do tell in the comment box below, as well as share this post with your friends - your cooperation is expected